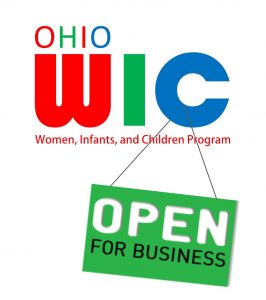 Safe WIC appointments by phone! Call 740-622-2929 Tuesday-Friday, 8:30 am to 3 pm.
All necessary info is being done by phone in advance. Leave a message if we don't answer. Calls will be returned on a first call, first serve basis within the next business day.
WIC cards are being loaded curbside! We ask that you pull up to the WIC sign on the sidewalk in front of the building (724 S. 7th St., Coshocton). Call from your car. If we are not able to immediately answer, we will be checking the curb regularly. So hang tight, and we'll be out to help you!
STAY HOME if you or a family member has any signs or symptoms of COVID-19.
For breastfeeding help, Coshocton WIC has FaceTime on iPhone and video chat on droid phones for digital CLC consults. We can still accept asymptomatic mothers/babies needing assistance in clinic as needed. Continue to call/text our breastfeeding staff 24/7 via the After Hours Breastfeeding Cell – 740-610-6200.
Call 740-622-2929 for questions or concerns. Please stay home unless absolutely necessary to prevent COVID-19 spread. Thanks!
The Women, Infants, and Children program (WIC) provides Nutrition Education, Healthy Foods, Breastfeeding Support and Healthcare Referrals for income eligible:
Pregnant women
Breastfeeding mothers
Non-breastfeeding mothers up to 6 months postpartum
Bereaved mothers up to 6 months postpartum
Infants and Children up to age five
Despite our name, dads or any legal guardian are welcome to present their children for services up through the child's 5th birthday.