Fee list:
Swimming Pools $300.00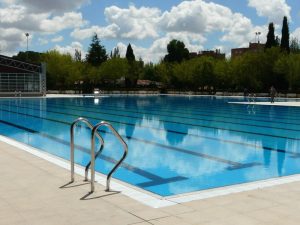 Bathing Beaches $150.00
Public Spas $300.00
Special Use Pools $300.00
Additional Pool $120.00
Our Pools are inspected to minimize safety hazards, reduce potential risk for disease transmission and assure that waters are in compliance with ordinances as outlined in Chapter 3749 of the Ohio Revised Code and Chapter 3701-31 of the Ohio Administrative Code. The pools are inspected before operation, and throughout the swimming season.
3701-31-03(B)(2) License Renewal. Applications for license renewal shall be in April. Applications received after April thirtieth of each year shall be assessed a penalty as authorized by section 3709.09 of the Revised Code. Applications post marked on or before April thirtieth shall be considered timely.
Applications will be mailed at the end of March each year. If you do not receive an application in the mail, please contact us at 740-295-7305.
Ohio Department of health website on Pools – http://www.odh.ohio.gov/odhPrograms/eh/swim/swim1.aspx
Forms:
Equipment Replacement Notification (ERN) – must submit for any equipment not originally approved on plans – OAC 3701-31-05 (D) (4)