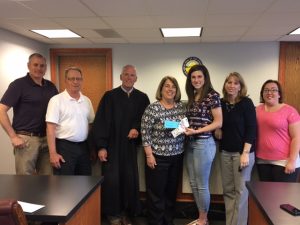 Pictured – left to right:
Doug Schonauer, Court Administrator, Scott Thompson, Treasurer, Friends of Coshocton County Drug Court, Judge Van Blanchard II, Becky Beiter, President, Friends of Coshocton County Drug Court, Elizabeth Porteus, JoAnn Uhlig, Coordinator and Heidi Miller, Case Manager, Family Drug Court
Elizabeth Porteus, daughter of Knox and Beccy Porteus, wanted to give back to her community. Each member of her youth group at Roscoe United Methodist Church, was given $50 to "Pay It Forward". She wanted to somehow multiply her funds to make a larger impact. The Youth could choose how they would spend their funds. Elizabeth offered to buy a gift certificate from various businesses, if they would consider donating one. Most businesses simply gave her the gift certificates. Some of those were Dominos, Kids America, Whits, Shelby Theatres, and Coshocton Bowling Center.
Elizabeth chose to donate the funds and gift certificates to the Friends of Coshocton County Drug Court. The items will be given as incentives to families and individuals involved with the Drug Court and dealing with substance abuse issues.
Elizabeth is a Junior at River View High School. Next year as a Senior, she would like to attend OSU/ ATI at Wooster, studying Animal Science. After she graduates from High School, Elizabeth would like to pursue an Animal Science degree at OSU, with her ultimate goal of becoming a Veterinarian.