Note: Domestic Civil Protection Orders (aka Restraining Orders) are not available on the Clerk of Courts online docket. Should you have a need to file a document on a Civil Protection Order case, please call the Clerk of Courts Office at 740-622-1456 for assistance.
---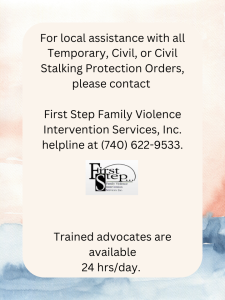 ---
Pro-se filer Resources
The Clerk of Courts strongly advises anyone seeking a Protection Order to contact First Step Family Violence prior to filing a Petition in Coshocton County Court of Common Pleas.
However, information is available from the following resources if you elect to file pro-se without their assistance:
Please note, the Clerk of Courts staff is not permitted, by law, to give legal advice on any matter.