The Keep America Beautiful organization has an initiative every spring called the "Great American Cleanup." Marking its 22nd year in 2020, the initiative inspires people to take action every day to improve and beautify their communities in nearly every way possible. I challenge all people of Coshocton County to do a little work to make a big impact during the March 19- June 20, 2020 Great American Cleanup. You can join the conversation by following #DoBeautifulThings on Twitter and Instagram or by liking the "Keep America Beautiful" Facebook page.
Coshocton County Recycling & Litter Prevention is combining forces with Premiere Fitness gym by co-hosting a plogging session on Friday, March 20 from 4:30-5:30 p.m. and all are welcome to join in. Bags and gloves will be provided. We will me at Premiere Fitness, 423 Main Street, Coshocton and work on an eight-square block area encompassing 3rd– 7th Streets and Walnut- Chestnut Streets.
What is plogging? From the Swedish term "plocka upp," meaning "pick up," and jogging, the idea of plogging is taking ahold in America. It's an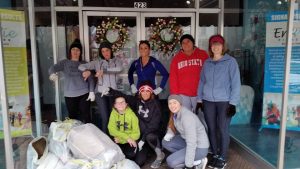 easy concept that can make a big impact on wherever it is you walk, run or jog. All that is needed is a bag, maybe a pair of gloves and the willingness to pick up litter.
The Swedish-based fitness app Lifesum, which considers plogging a legitimate exercise, says a 30-minute plog burns about 17-20 percent more calories than simply jogging. This is due to the action of squatting or lunging to pick up debris; adding variety to your workout. Even if jogging or running isn't for you, a walker can benefit in the extra motion.
Even if you cannot join in the March 20 plogging session, take some time over the next few weeks to clean-up, beautify and promote positivity in our beautiful County.