"Plogging" for Health and Community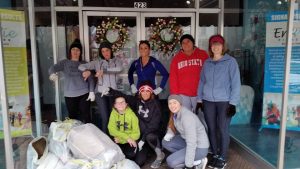 Have you ever heard of "Plogging?" Plogging is a new European trend that combines jogging with picking up litter- a play on the Swedish 'plocka upp' (pick up) and jogging!
On March 20, Coshocton Recycling & Litter Prevention teamed up with EnVie Fitness for a one-hour plogging session. This workout took the place of a "bootcamp" class, but we still got a good workout while cleaning up around the EnVie Studio, Main Street and Court Square.
EnVie members and family all pitched in to help clean up litter, get in some squats and burn some calories. In total, 56 pounds of litter were collected in an eight-block area– and disposed of properly!
Reducing waste, increasing community: Hasseman Brewing
Although a relatively new business in Coshocton, Hasseman Brewing celebrates the history of Coshocton County and its community. Owner Kirby Hasseman encourages the "Reduce, Reuse, Recycle" motto in his home and businesses in both conventional and unique ways.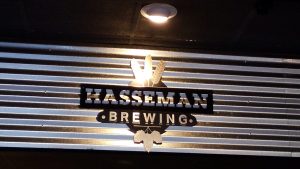 Many of the furnishings in the taproom, located at 115 South 6th Street in Coshocton, are recycled from various businesses that used to call Coshocton their home. From old city maps, old local school's yearbooks and light fixtures, Kirby has found a way to display items that some may have considered "trash" and given them new life and purpose.
A by-product of the brewing process is "spent grain." Spent grain is the leftover malt and other parts of the brew after the mash has extracted most of the sugars, proteins, and nutrients. It can constitute as much as 85% of a brewery's total by-product. Hasseman employs a "foam to farm" approach and gives spent grains to a few local, small producers to feed chickens, cows and hogs.
Looking toward future recycling opportunities, refillable glass growlers are being offered to patrons. Water bottles, aluminum cans and cardboard boxes are items he strives to be more consistent in recycling.
We appreciate Hasseman Brewing's recycling efforts in the community! View the business and industry edition of the "Waste Not" newsletter here.