The Ohio Association of Litter Prevention and Recycling Professionals (OALPRP) is offering a $1,000 scholarship to a deserving student from Ohio.
To qualify for the scholarship, a student must:
Plan to enroll or currently be enrolled at an accredited Ohio college, university or technical school.
Have declared or plan to declare a major relating to environmental sciences or environmental education.
Reside in Ohio.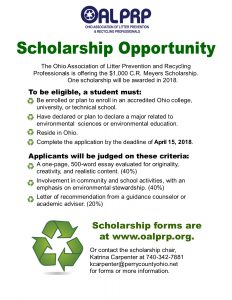 OALPRP scholarship forms may be downloaded at http://oalprp.org/scholarships/ or obtained by contacting Tammi Rogers, Program Manager, Coshocton County Recycling & Litter Prevention at 740.575.4813. Deadline for submission of the application is April 15, 2019.
Completed forms can be e-mailed to Scholarship Chair Katrina Carpenter at kcarpenter@perrycountyohio.net by April 15th. Recommendation letters should be sent directly from the letter's author to Carpenter. Or send the completed forms to: OALPRP Scholarship, c/o Perry County Waste Reduction & Recycling, PO Box 621, New Lexington, OH 43764, Attn: Karina Carpenter. Forms sent by postal mail should be postmarked by April 15. You may follow up with Carpenter to check if your application is complete.