Register soon, limited seating – Meeting Registration Link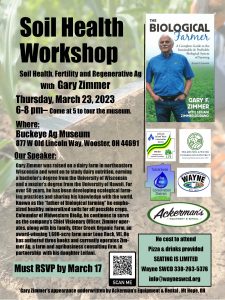 Tuesday, March 21, 2023
Doors open at 11:30 a.m.
Lunch at 11:45 a.m.
Adjourn at 1:00 p.m.
Meal by Schumaker Farms
Cost: $10.00 per person, RSVP by March 14
After a great turnout in 2022 we are pleased to hold the event at the Lake Park Pavilion (23253 State Route 83, Coshocton 43812) again in 2023. Join us as we recognize the contributions of today's farmers and show our appreciation for the men and women of agriculture. This event is sponsored by Farm Credit Mid-America, Coshocton Soil & Water Conservation, and OSU Extension.
RSVP to 740-622-8087, ext. 4 or samanthadaugherty@coshoctoncounty.net. We will respond to all email RSVPs, so if you do not hear back please reach out to us again.
The Coshocton Soil and Water Conservation District's Board of Supervisors meets once a month, and uses the following schedule:
January, February, March, and December – Second Wednesday of the Month – 10:00 a.m.
April, May, June, July, August, September, October, and November – Second Wednesday of the Month – 8:00 p.m.
Any special or emergency meetings will be posted on our Events page as soon as they are scheduled.
SWCD Board Meetings are open to the public, and most meetings are held at the District Office, 724 S. 7th Street, Coshocton, Ohio. If you would be interested in attending our meetings or would like more information, please contact our office at 740-622-8087, ext. 4. The Chairman of the Board may need to change the date and/or time of meetings throughout the year. Any changes will be made known to the public and updated on our Events page.