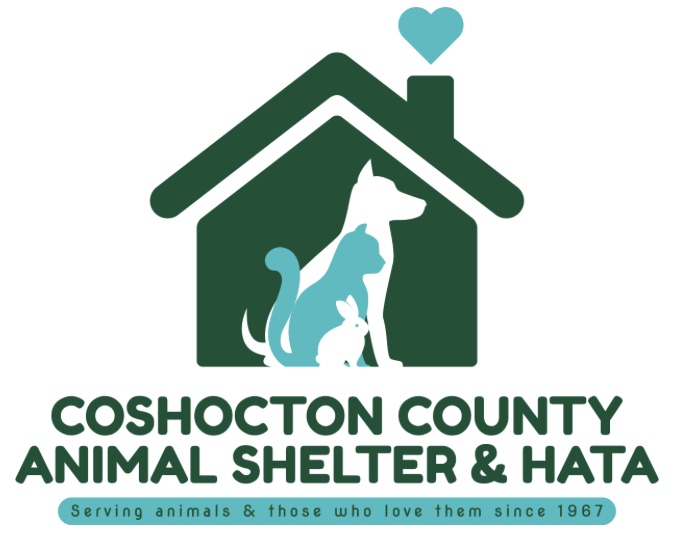 Shelter is closed to public visitation due to the COVID19 outbreak
The shelter is by appointment only
Contact the shelter at 740-622-9741 to schedule:
•Owner redemptions to owners, by appointment (Please always call & leave a detailed message to claim your pets!)
•Intake of owner surrendered or stray animals (all animals in need), by appointment
•Distribution of pet food for those in need
•License sales by appointment M-F
LOST & FOUND PET REPORT: Report lost & found pets to shelter office, 740-622-9741. Send photos to hataofccas@yahoo.com & post to our Facebook page. WTNS Radio Lost & Found Pet Report can be reached at 740-622-1560. Report missing dogs and puppies to the wardens at 740-295-0026.
Dog Wardens Office: Stray pick up & owner surrender pick ups (dogs only!) 740-295-0026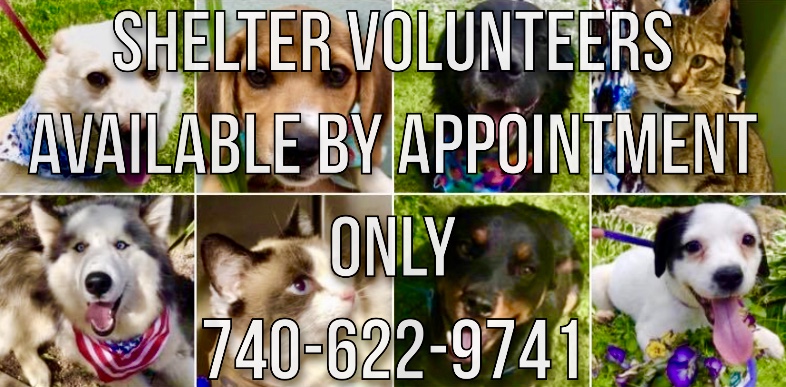 Donations of cleaning supplies and food items are most needed at this time & can be ordered online & sent direct (21755 TR 164, Coshocton Ohio 43812) or left safely at our front door or our back gate. Please halt other donation drop offs of blankets, newspapers, and towels until further notice as we are accepting food and cleaning supplies only at this time. Thank you for your continued support!
Please keep in mind that the shelter will continue to be closed to public and by appointment only until further notice. We continue to offer financial assistance toward your veterinary bill for the following services:
$20.00-$40.00 voucher toward spay & neuter services at any local veterinarian (amount may vary dependent upon circumstances and assistance needs)
Low Cost Spay & Neuter Clinic, July 28th (June 30th is now full) Please print your application via rascalunit.com and submit by mail to shelter office: 21755 TR 164 Coshocton, Ohio 43812. You will be contacted in regards to your appointment and can check the status of your appointment by calling 740-622-9741. Thank you!
$40.00 voucher toward the humane euthanasia of a beloved pet
As a safety precaution, we are not distributing the physical voucher coupons at this time. Please contact us for more information about your appointment & how to apply the voucher directly to your bill. 740-622-9741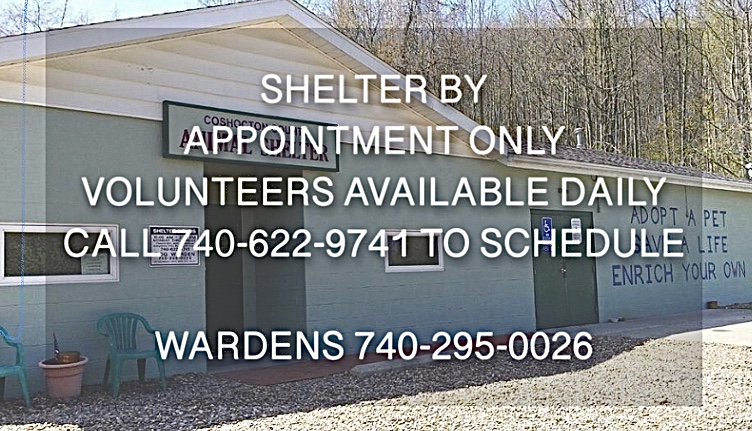 Adoptions & Foster Opportunities: Volunteers are available by appointment. Applicants are asked to complete and submit an inquiry form for the specific animal of interest. The required foster &/or adoption applications are linked below. Adoptables will continue to be posted to our Facebook page. Note that all pre-adoption meetings will occur via phone (videos/FaceTime also an option) and all appointments for in person will be conducted outdoors without entry into the building. Facial coverings also required. Adopters will be limited to two adult representatives from the family and meet with one masked/gloved shelter representative outside. Visitors should be masked and gloves are encouraged, all protocols will be discussed at time of appointment scheduling for approved adopters. Please also note the full adoption fee deposit will be required *prior* to transporting the animal from the shelter or to the required veterinary appointment (most often for spay/neuter surgery) Should you have further questions, please contact the office directly. If you are interested in adopting or fostering an animal, please submit application to hataofccas@yahoo.com or mail 27155 TR 164, Coshocton. Thank you!