Thank you for visiting our website! We appreciate your interest in learning more about our animal shelter and the important work of its dedicated volunteers. Like many shelters and societies at this time, we are available by appointment only for adoptions and redemption to owners due to the Covid19 pandemic. Office hours conducted weekly for community pet food bank assistance, dog license sales, cat and kitten intakes, and spay and neuter voucher distribution. All shelter business continues to be conducted outside with no public entry permitted, due to Covid19.
We are on site daily caring for and receiving new animals in need, returning pets to owners, and finding new loving homes via private adoptions and rescue placement. Please always leave a voicemail at 740-622-9741 if you are in need of assistance.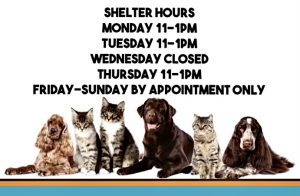 This is a volunteer operated shelter. We operate the animal shelter for dogs, cats, and other various animals in need. We are located on Morgan Run Road here in Coshocton County. We have contracted with the county and have operated the animal shelter and "dog pound" for over 50 years. This is an open admission animal shelter. Our volunteers are a small group of dedicated individuals who spend 7 days a week caring for the animals and individuals that we serve. We deeply appreciate your support as we continue to provide an open admission environment for animals in need. Our 501c3 nonprofit provides services to owned pets, strays, individuals in need of pet food, spay and neuter & affordable pet care services, and veterinary care assistance case by case.
We are not affiliated in any way with the newly formed "Coshocton County Humane Society" which operates out of a P.O Box and the local Tractor Supply in the plaza. If you have an adoption application with that organization, questions or concerns about their organization, programs, or assistance they provide—please contact them directly. 740-575-5829
Adoptions
To adopt an animal from our shelter, please first complete the brief adoption inquiry form. This form must be completed to schedule an appointment for a specific animal of interest. We will verify your veterinary reference and information provided. Please always reach out if you have submitted a form and see an animal of interest that you would like to meet!
Owner Surrenders & Stray Intakes
The Humane Animal Treatment Association is responsible for the cat shelter, which is within the same building as the county dog pound also operated by HATA volunteers. We contract with the county to operate the dog pound. Owner surrender dogs enter at a small county required fee of $25.00. All cats and kittens are accepted from our county and surrounding area counties at no charge per HATA policy. You may claim your pet cat at no charge as well, but modest county fees for canine pick ups are required (not determined by HATA) We do offer a redemption assistance program to help case by case, if financial limitations are a barrier to claiming your dog or puppy. If your pet has entered our shelter, please call us right away to setup claim arrangements. If you have a lost pet, please report to 740-622-9741 or email photos and information to hataofccas@yahoo.com.

Canines enter the dog pound at the required $25.00 county surrender fee. We are one of the only pounds left in the state of Ohio who accept owner surrendered canines within or outside of their county, with one of the lowest county required fees. Please contact us to discuss the surrender and to setup a drop off time prior to visiting. The dog wardens office assists with stray dog pick up and owner surrendered canines within Coshocton County if needed, 740-295-0026. We are not able to admit stray dogs from outside of this county. Please turn them into your county dog shelter or pound, required by law to accept all in county strays. Please never transport found dogs away from the county found, please turn them into the pound where you found them to help in reunification.
We are an open admission cat shelter, admitting all cats and kittens in need. This is NOT a no-kill cat shelter. Due to the volume received and the lack of options throughout the state for countless ill, suffering, and injured cats and kittens–we proudly serve all in need and provide a humane solution to this overpopulation crisis. Our primary focus and only line of defense against the overpopulation crises is spay and neuter initiatives. We encourage you to contact us for referrals and assistance options. We are also happy to help connect individuals to low cost options to curve behavior related issues, prior to surrendering an animal. If you are left with no choice, we are happy to be here and do the best we can while they are in our care and facility. We proudly have watched over 500 animals adopted in 2020. This dog pound does not euthanize for space and celebrates a 90% live release rate in 2021 so far.

Donations
Items by mail delivery are easiest to receive at this time. Please visit our Amazon Wishlist to learn more about items used & appreciated. Items can also be safely left at our back gate or main entrance at any time! THANK YOU for your support and generosity.
Coshocton Co. Animal Shelter & Humane Animal Treatment Association, 21755 TR 164 Coshocton, Ohio 43812. If you prefer a volunteer be present at drop off, please feel free to contact us to setup a date and time!
Paypal: hataofccas@yahoo.com