Community Programs & Services
Low-cost Spay & Neuter Program: Monthly clinics for low cost spay & neuter (dogs, cats, bunnies)
2018 Dog Clinic Dates: July 10th (clinic full, can apply for waitlist placement)-August 7th-September 4th-November 6th
2018 Cat Clinic Dates: June 20th (clinic full, can apply for waitlist placement)-August 16th-October 18th-December 13th
Low Cost Spay & Neuter Cat/Dog clinics are hosted locally here in Coshocton via Rascal Unit and Nomad Inc. To complete an application for the Nomad clinic for cats, please visit the shelter M-F 10-3PM. Payment due at time of application, $30.00 for male cats and $60.00 for female cats.
Dog prices vary by weight, see below for estimated cost. Must provide proof of rabies at time of registration on day of clinic or $7 additional fee will be applied and vaccine administered. Other services available at additional costs. See below via link to view full application. Vaccines (both clinics) and microchip (dog) also available at low cost!
Cat clinic apps (Nomad Inc.) not available online, must be completed in shelter. Out of county residents welcome. Payment options include phone (debit/credit) or directly at clinic on day of surgery. Pre-payments encourages. When application & payment received, you will be contacted to confirm your appointment & date a week from your surgery. It is also recommended that you contact directly within two weeks of sending in order to confirm our receiving your application. Please feel free to check on your application at any time.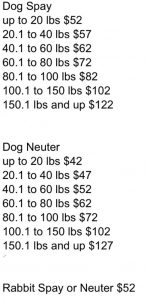 Rascal Unit (Dog) Application: http://rascalunit.com/wp-content/uploads/2016/03/dog-surgery-form-upd-may.pd
Below are multiple additional resources throughout the state of Ohio. Please check the Rascal Unit website & schedule for other opportunities near you!
http://www.sosohio.org/services-pricing/
http://www.spayneuterohio.com
https://humaneohio.org/schedule-an-appointment/
http://www.athenshumane.org/spay-neuter/
http://wyhumane.org/hope-clinic
http://www.cahs-pets.org/i-need-help/veterinary-care/low-cost-spay-neuter-information http://www.knoxhumanesociety.org/clinics/ http://www.animalsheltersociety.org
Pet Food Bank: With the help of wonderful donations, we are able to supply a distressed pet owner food bank to those in need. If you are in need of food for your pets, please visit our shelter location Wednesday 10-3pm.
Emergency Medical Assistance: We will assist as able with veterinary care expenses on a case by case basis. Please contact the shelter for options. $20 off veterinary spay or neuter assistance available in addition to our low cost clinics.
Referrals: We are happy to share any and all helpful resources via our office to help you with your questions or concerns. Wildlife and exotic animal referrals and assistance also available.
Low Cost or no cost Euthanasia: We reserve euthanasia for animals who are suffering mentally or physically, terminally ill or unresponsive to treatments, are considered dangerous to themselves, other animals, and/or humans. If euthanasia is needed, please know the animals will be treated with compassion, dignity and respect by our caring euthanasia technician. Private euthanasia services are available by appointment, please contact 740-622-9741 for more information.
Please note that we are not affiliated in any way, nor do we receive support from, the recently formed "Coshocton County Humane Society".