Community Programs & Services
Low-cost Spay & Neuter Program: Monthly clinics for low cost spay & neuter (dogs, cats, bunnies)
Low Cost Spay & Neuter Cat/Dog Clinics are hosted locally here in Coshocton via Rascal Unit and Nomad Inc. To complete an application for the Nomad clinic for cats, please visit the shelter M-F 10-3PM. Payment due at time of application, $30.00 for male cats and $60.00 for female cats.
Dog prices vary by weight, see below for estimated cost. Must provide proof of rabies at time of registration on day of clinic or $7 additional fee will be applied and vaccine administered. Other services available at additional costs. See below via link to view full application. Additional fees apply.
Cat clinic apps (Nomad Inc.) not available online, must be completed in shelter. Out of county residents welcome. Pay by phone with debit/credit or via PayPal hataofccas@yahoo.com. When application & payment received, you will be contacted to confirm your appointment & date.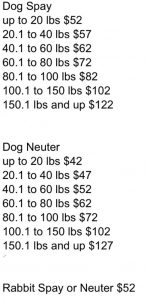 Rascal Unit (Dog) Application: http://rascalunit.com/wp-content/uploads/2016/03/dog-surgery-form-upd-may.pdf
Pet Food Bank: With the help of wonderful donations, we are able to supply a distressed pet owner food bank to those in need. If you are in need of food for your pets, please visit our shelter location Wednesday's 10-3pm.
Emergency Medical Assistance: We will assist as able with veterinary care expenses on a case by case basis.
Referrals: We are happy to share any and all helpful resources via our office to help you with your questions or concerns. Wildlife and exotic animal referrals and assistance also available.