Sundries
Industry Recycler of Note: Annin Flagmakers
You were at the football game. Maybe you'll go to a basketball game. Maybe you were even lucky enough to get to the World Series. Wherever you were, you started the game by standing for the National Anthem. You can probably thank Annin Flagmakers for that display of patriotism.
"We make around eight million flags in Coshocton," said Dave Rogers, Director of Operations at Annin's Coshocton plant.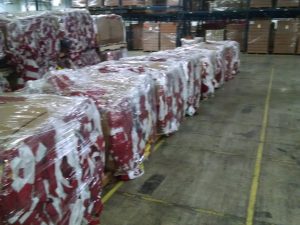 Not only is Annin the largest flagmaker in America, they also make the flags that fly at the United Nations, military flags and even the flags that fly locally, making the flags for West Lafayette which decorated Main Street.
On top of all that, Annin is dedicated to diverting as much as waste as possible at their Coshocton location.
Rogers said they use a vendor who will accept their raw nylon left over from the flagmaking process.
"We bale it up two or three times a week," he noted. "Usually our bales weigh about 900 pounds. We'll do about 120 bales a year. It's much better than putting it in a landfill and having to pay for (disposal)."
That's 54 tons of a material, just in case you're keeping score at home.
Unfortunately, Annin's vendor for raw nylon will not accept pieces with threading in them, because of the thread is made of non-nylon material and cannot be easily removed.
But that doesn't stop Annin from looking for every possible material they can divert from the landfills. In 2016, they baled and recycled 177,700 pounds (88.85 tons) of cardboard. (To the left, Rogers points out some of the cardboard set aside for recycling.)
Rogers also said they recycle steel, but in a rather unusual form at Annin's.
"We get poles that come bent, or poles that are returned by customers and vendors that are damaged. So far this year we've done 7,200 pounds of steel recycling."
In addition, Rogers said the steel cased batteries used for the company's forklifts also get recycled after they won't hold a charge any more. So far this year, more than 6,000 pounds of batteries have been recycled.
Tim Watson, with Annin's Inventory Control, said they also get as much mileage out of their wooden pallets as possible.
"We reuse pallets, shipping them to South Boston, Virginia (Annin's other manufacturing plant) who then return them to us with new product."
This is no small amount of material, according to Watson. "During our peak season, we produce hundreds of pallets a day," he said. "We have to stack them outside. Just not enough room for them inside."