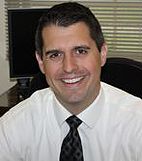 Jason Given is a Coshocton native and obtained a B.A. from Capital University in 1998 and a law degree from Capital University School of Law in 2001.
Jason has been associated with the Coshocton County Prosecuting Attorney's Office since 2001. First as an Assistant Prosecuting Attorney handling Adult Felonies, Juvenile Delinquencies and as the lead attorney for Coshocton County Job & Family Services' Children Services Unit.
Since January 1, 2011 Jason has served as the Coshocton County Prosecuting Attorney. As the Coshocton County Prosecuting Attorney, Jason oversees all prosecutions involving adult felonies and abuse neglect and dependency matters and juvenile delinquencies. In addition to these duties Jason also acts as legal counsel to all of Coshocton County's elected officials and agencies, as well as all of the Boards of Township Trustees in Coshocton County.
Assisting Jason in his duties is a highly competent, highly experienced and extremely dedicated staff. The staff includes Assistant Prosecuting Attorneys, Ben Hall, Christie Thornsley and Jim Skelton, Office Manager, Diane Jackson, Legal Assistant, Emily McBurney, Victim Witness Coordinator, Tarez Elliott and Prosecuting Attorney's Investigator, Brent McKee.
Jason is a member of the Ohio State and Coshocton County Bar Associations. Jason is also a member and past president of the Coshocton Rotary Club, and serves as a director for Kids America, Inc., Coshocton Behavior Health Choices and the Coshocton County Memorial Hospital.
Jason is a Life Fellow of the Ohio State Bar Association. In 2012 he was the State OSBF recipient of its award for Community Service by Attorneys 40 and under.