Thank you for your interest!

Please submit the required forms to hataofccas@yahoo.com or drop off/mail to: 21755 TR 164, Coshocton.
Approved applicants are asked to follow up on this submission with our main office and watch for available adoptables who are posted weekly. Veterinary references required and followed up on. First time pet owners are also welcome to apply, personal references & further interview screening may be required however.
Foster Application 2020
Adoption Inquiry Form
Dog & Puppy Adoption Fee: $150.00
•5 way canine core vaccinations administered at intake ($8-$10)
•Spay/Neuter surgery, if not altered prior to exit, via clinic or private veterinarian at cost ($55-$300, varies by weight)
•Rabies vaccination by licensed veterinarian ($7-$10)
•County required service fee ($10)
•Current 2020 year dog license required, received prior to exiting shelter ($12)
**Any additional or circumstantial based needs are addressed and discussed with adopters (potential grooming, dental, and other medical needs subject to change in fees)** Reduced fees for those with special needs, seniors for seniors, and other sponsorships often applied. Veterinary care cost may be added to fee or anticipated costs for continued treatments, would be discussed with adopter prior & posted/updated with the animals information**
Cats & Kitten Adoption Fee: $20.00
•4 way feline core vaccination ($8)
•Spay/Neuter surgery if not altered prior to exit, clinic or veterinarian ($30-$200)
•Flea/tick treatment, de-wormer started at intake
Daily feeding, cleaning care expenses, and other various costs also blanketed under these fees. We do not profit from our fees, and actually spend our own funding to responsibly adopt at a modest fee. We believe in responsible adoption processes, and put a great deal of resources, time, and love into our shelter animals.
Please keep in mind the status of an animal can change quickly (most often an owner claims/redeems, other application submissions result in quick adoption, or exit via rescue/transfer networking) It is imperative to have the inquiry form turned into volunteers quickly to be considered for future or current pets, and that you follow up when an animal of interest is posted. Any questions or concerns can be directed to 740-622-9741. Please watch our Facebook page for adoptable pets. Thank you for your interest in adoption!

Please note we do not always know what kind of home environment our animals were living in (kids, dogs or cats) nor do we know if they are house trained unless owner states this at surrender. We do our best to observe in kennel and litter box habits. A majority of what we know is based on our observations while they are in our shelter. We recommend all animals receive a fair adjustment period from shelter to new home life. New cats should be kept in a small side room with food, water, and litter while adjusting to sounds, smells, and other pets/family members. Puppies or young adults should receive multiple daily potty breaks, and we encourage safe kennel and exercise times be decided upon prior to coming home. Puppy pads are also helpful in training stages.
Thank you to our adopters! Hundreds of animals exit our shelter each year and straight into loving homes! We appreciate you!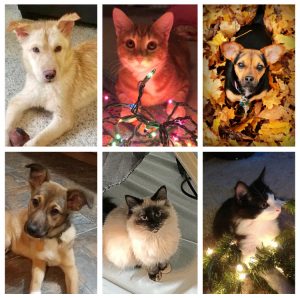 Photos submitted by owners, thank you for sharing!**