Adoption Fees & Important Information
To view adoptables, please follow us on Facebook, "Coshocton County Animal Shelter HATA" or check us out on Pet Finder!
Adoption Fees
The cost to adopt a dog or puppy is $150. This includes:
* Multi-way vaccinations (core, received in shelter)
* Spay/Neuter surgery if not altered prior to exit (clinic) or via preferred veterinarian ($50 refundable deposit)
* Rabies vaccination (clinic)
* $10.00 county fee
* Current year dog license (received in shelter)
* General parasite treatments (roundworm/flea/tick received in shelter) **Any additional or circumstantial based needs are addressed and discussed with adopters** Senior & veteran discounts available for approved adopters! Reduced fees for those with special needs or senior age animals!
The cost to adopt a cat or kitten is $50. This includes:
* Multi-way vaccinations (core, received in shelter)
* Spay/Neuter surgery if not altered prior to exit (clinic)
* General parasite treatments (roundworm/flea/tick received in shelter) **Any additional or circumstantial based needs are addressed and discussed with adopters**
**Daily feeding, cleaning care expenses, and other various costs also covered under these fees.
Please note we do not always know what kind of home environment our animals were living in (kids, dogs or cats) nor do we know if they are house trained unless owner states this at surrender. We do our best to observe in kennel and litter box habits. A majority of what we know is based on our observations while they are in our shelter. We recommend all animals receive a fair adjustment period from shelter to new home life. New cats should be kept in a small side room with food, water, and litter while adjusting to sounds, smells, and other pets/family members. Puppies or young adults should receive multiple daily potty breaks, and we encourage safe kennel and exercise times be decided upon prior to coming home. Puppy pads are also helpful in training stages.
We encourage meet & greets with all family members, both 2 and 4 legged, with the dog or cat you are considering for adoption. Contact us directly to schedule!
Adoption Considerations
Adopting an animal is a lifetime commitment. Many wonderful animals enter our shelter and we would love for you to meet them, but please take this decision as a serious commitment. Patience and care must be taken when choosing and providing a shelter pet a forever home. You must be prepared for house-training and dealing with normal behavior problems like chewing, barking, digging, etc. Please be sure that you have considered the financial and emotional commitment required in having a pet.
As an open admission shelter, not all of our animals are available for adoption, we receive animals of all backgrounds and circumstances.
We recommend potential cat adopters adopt those in our **adoptable display cages**. These cats have been isolated, received core vaccines, & have received general parasite treatments and are closely monitored prior to exit. Adopting from general population is case by case, as we house many different types of cats from all backgrounds (behavioral issues, mild medical needs, feral cats) including many who are our "resident shelter cats" for various behavioral or medical issues.
Adoption Process
Ohio law stipulates that all stray canines must be held for a minimum of 72 hours before they can be released. If you are interested in adopting a dog that is still in this hold period, we can place your name as a choice for that dog. If you cannot make the date and time frame we contact you with, you will forfeit your choice on the animal, and the animal will be available for the next choice listed or available for general adoption.
Please call the shelter immediately after seeing an animal of interest, you must leave a message at 740-622-9741 with your contact information. To further assist your being considered please include your name, number, and details surrounding your interest in that animal. Additional info like the other pets in your home (fixed? good with other pets? young children?) and who your most recent veterinarian is, are also appreciated.
We provide additional care and veterinary/clinic services case by case as needed. Basic or full grooming provided as needed. Due to the design of our facility, dogs are not bathed unless absolutely necessary. Although all adoptable animals receive initial vaccinations from us, our contract requires that you make an appointment to see your veterinarian after you take your new animal home for a complete and thorough physical examination and continue with necessary care & vaccinations. Our animals are to return to this shelter should any changes or issues occur with the adoption. Contract details refund options and timeline of eligibility. We are not responsible for animals after leaving the shelter but welcome open communication with our adopters in hopes to ensure a successful & lasting adoption!
We strive to have all canines and felines altered before going home, but for those that do not have the surgery prior to adoption, a spay/neuter deposit is included in the adoption fee above when you take your new pet home. Per our contract, the animal must return for its scheduled clinic appointment. Application for surgery completed, deposit included, & appointment scheduled at time of adoption. Upon proof that the surgery has been done via your own veterinarian prior to clinic date, a refund of $50 will be provided once proof received. Vet reference must be provided at time of adoption and appointment must be scheduled and verified. Thank you for considering and choosing adoption!
IMPORTANT to REMEMBER:

🐾You must make **verbal** contact via main office with our shelter staff/volunteers.
🐾The potential adopters must contact directly, not a relative or friend calling on your behalf. The pre-adoption questions must be answered by the adopter and person who will be responsible for the animal of interest.
🐾Please do not adopt or attempt to adopt from this shelter if you're going to give the animal away to someone else. This is a violation of our contract. If you receive food bank assistance, you are not approved for adoption while receiving this assistance.
🐾Spay & neuter required and included in adoption fees, mandatory and included in contract.
🐾 Applicants are carefully reviewed based on best fit to the potential animal. Every variable is considered to ensure the success of every adoption!

Please note, we have many pre-approved on our wants list who are called also in addition to those newly contacting.

Please also note we field hundreds of calls, walk ins, and emails, and social media posts a week. We are largely a volunteer based staff who operate the shelter, dog pound, cleaning, office management, clinics, daily care, and our active humane agent also cleans and serves as our volunteer director.

Thank you for considering adoption!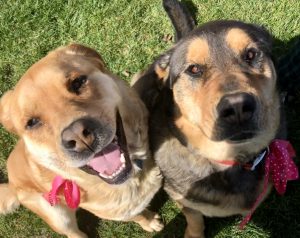 Delilah & Riley, two sisters brought to us as part of an unwanted litter. Adopted February of 2016. Photo update April of 2018. They are deeply loved by their families. 💕
Please note we are not affiliated in any way, nor do we receive support from, the recently formed "Coshocton County Humane Society".