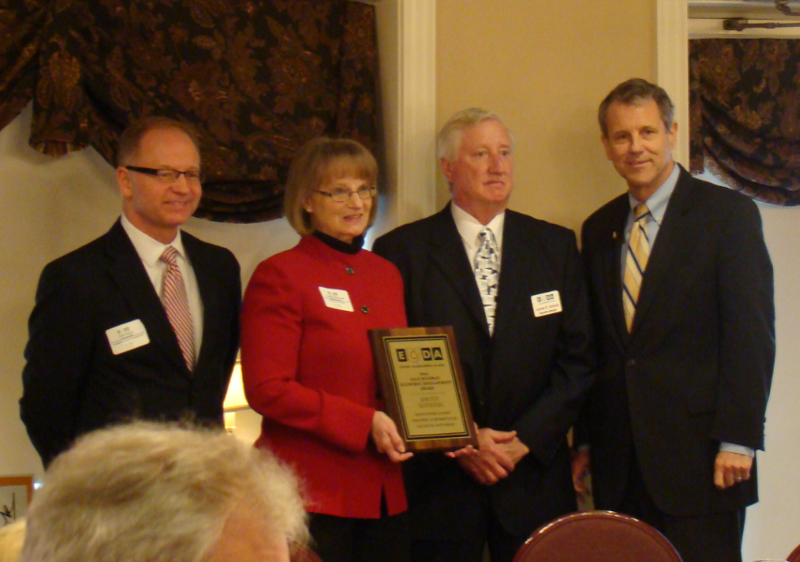 On Friday, April 29, 2016 Dorothy Skowrunski, Executive Director of the Coshocton Port Authority was awarded the 2016 Dale Hileman Economic Development Award for outstanding economic development achievement in the EODA sixteenth region. She was nominated by the Coshocton County Commissioners for her innovative approach for the County Road 12 project.
Dorothy created a unique public-private partnership to improve basic infrastructure and foster an environment for economic growth, job creation and retention in Coshocton County. Realizing that the county did not have the funds for the road improvements and recognizing the economic need for this project, Ms. Skowrunski quickly went into action. She organized a meeting with state economic development professionals, county officials, the business community, and residents. At this meeting, state economic development professionals from ODOT Jobs and Commerce, the Appalachian Partnership for Economic Growth (APEG), and OMEGA (representing the Governor's Office of Appalachia) learned firsthand about the needs of the business community.
These representatives also learned about the economic impact that these businesses have on the local, regional, and state economy. Dorothy worked with these businesses, funding agencies, and other county officials to include the County Engineer to develop short, mid and long range solutions to improve the infrastructure needed in order to sustain the projected growth of the wood products industry and other businesses in northeast Coshocton County. The total cost of the road improvements is $845,000. State funding agencies (ODOT, APEG, and GOA) were able to provide grant funds in the amount of $550,000. The remainder of the funds for the project were obtained from the Coshocton Foundation, Coshocton Port Authority and the Northeast Coshocton County Infrastructure Committee also contributed funds for this project. The County Engineer donated his in-kind engineering services for design, construction administration, and inspection services as well as contributing funds towards the project.