Cover Crops in Coshocton County
Thanks to area producers, over 4,100 acres of cover crops were seeded in Coshocton County. Seed was applied using a few different methods. It was flown by airplane by Fisher Ag Service, broadcast from a high boy by Buckeye Soil Solutions, or broadcast or drilled by the producer. With the warm fall temperatures, cover crop seedings have been successful and will have a good stand going into the winter months.
The Muskingum Watershed Conservancy District once again offered cost share for these acres. This amounts to over $50,000 in cost share funds for Coshocton County landowners. The SWCD worked with ODA Division of Soil and Water Resources to rank applications, map fields, coordinate the purchase of seed, and get the seed on the ground. SWCD Technicians Ryan Medley and Zach Wallace were responsible for most of this work and are commended for their dedication to this program.
The purpose of the cover crop program is to plant cover crops, which provides a growing cover over the winter months to minimize soil erosion, increase soil organic matter, improve water infiltration, and improve water quality. The Coshocton SWCD would like to thank the producers that participated in our program, Muskingum Watershed Conservancy District, Fisher Ag Service, Buckeye Soil Solutions, Lapp Farms, Jason Massie, TMK Bakersville, Richard Downing Airport, and ODA Division of Soil & Water Resources for helping make this program a success.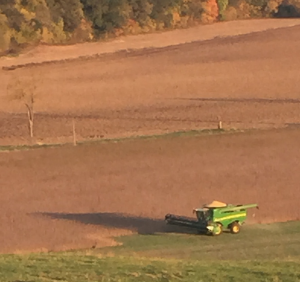 Soybeans are being harvested in a field
where oats were aerial applied in September.
The growing cover did not hinder harvest and
provides valuable cover to reduce erosion.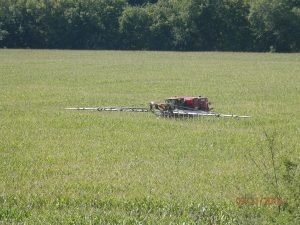 Buckeye Soil Solutions applies
seed mixture to a corn field.
Zach Wallace & Ryan Medley load
oats onto an elevator to be used for
aerial application . Over 2,000 acres
were applied from Richard Downing
Airport on September 6th.